Bewl Water is the largest stretch of open water in the South East. The 800 acre site is set in an area of outstanding natural beauty, in the heart of the High Weald. Open all year, a visit to this stunning lake is fantastic family fun and great value.Looking for healthy outdoor fun for all ages and abilities? Bewl Water offers a fantastic range of leisure and recreational activities, including fishing, cycling and boating, on and around the reservoir with a centre, conference venue, restaurant and café on the shoreline.Situated near the picturesque town of Lamberhurst and the beautiful Scotney Castle and within an hours drive of Tunbridge Wells, Hastings, Tonbridge, Maidstone, Ashford, Eastbourne and Sevenoaks via the adjacent A21, Bewl Water makes for a great day out on the Kent and Sussex border.Did you know? The Bewl Water reservoir can hold more than 31,000 million litres of water – enough to provide for nearly 200 million people!Open all year, Bewl Water is perfect for all kinds of fun and healthy outdoor activities for all the family and any age!Anand Lodge Hotel is only 7 miles via the A21 which is around 15 minutes drive to Bewl Water.Tel:01892 890000Bewl Water Estate Office,Bewlbridge Lane,Lamberhurst,Kent, TN3 8JH
Brands Hatch Fawkham, Longfield DA3 8NG
Brands Hatch offers two layout configurations:the shorter "Indy" layout (1.198 miles) is located entirely within a natural amphitheatre offering spectators views of almost all of the shorter configuration from wherever they watch. The longer "Grand Prix" layout (2.433 miles) played host to Formula One racing, including events such as Jo Siffert's duel with Chris Amon in 1968 and future World Champion Nigel Mansell's first win in 1985. Noise restrictions and the proximity of local residents to the Grand Prix loop mean that the number of race meetings held on the extended circuit are limited to just a few per year (usually for higher-profile series such as the BTCC and the BSB).The full Grand Prix circuit begins on the Brabham Straight, an off-camber, slightly curved stretch, before plunging into the right-hander at Paddock Hill Bend. Despite the difficulty of the curve, due to the straight that precedes it, it is one of the track's few overtaking spots. The next corner, Druids, is a hairpin bend, negotiated after an uphill braking zone atHailwood Hill. The track then curves around the south bank spectator area into the downhill, off-camber Graham Hill Bend, and another, slightly bent stretch at the Cooper Straight, which runs parallel to the pit lane. After the straight, the circuit climbs uphill though the decreasing-radius Surtees turn, before moving onto the back straight where the track's top speeds can be reached. The most significant elevation changes on the circuit occur here at Pilgrim's Drop and Hawthorn Hill, which leads into Hawthorn Bend. The track then loops around the woodland with a series of mid-speed corners, most notably the dip at Westfield and the blind Sheene curve. The track then emerges from the woods at Clearways and rejoins the 'Indy' circuit for Clark Curve with its uphill off-camber approach to the pit straight and the start/finish line.The British Rallycross Circuit at Brands Hatch was designed and constructed by four-times British Rallycross Champion Trevor Hopkins. It is approx. 0.9 miles long and completed around 1981. Unlike earlier rallycross courses at Brands Hatch, cars start on the startline then veer right and downhill on the loose at Paddock Hill Bend. Through the left-right Esses at the bottom, the circuit rejoins the Indy Circuit to travel up and round Druids hairpin, before a 90-degree left through Langley's Gap and across the knife-edge, rejoining the Indy circuit, but travelling anti-clockwise. From Cooper Straight, the cars swoop up the old link road and back to Paddock. Anand Lodge Hotel is only located about 26 miles from Brands Hatch race circuit, which is about 33 minutes driving via A21 & London Orbital Motorway.Address:Fawkham, Longfield DA3 8NGPhone:01474 872331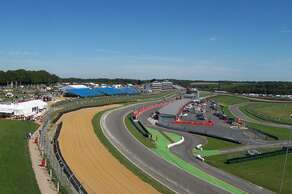 Hop Farm Music Festival is an annual music festival at The Hop Farm Country Park in Paddock Wood, Kent, England, first created by John Vincent Power of Festival Republic. After its first year it was nominated at the UK Festival Awards with "Best New Festival".It came about after a survey was conducted among festival fans with the general feeling revealed to be that they always felt the lowest in priority and importance. The survey resulted in the first Hop Farm Festival in 2008, as a 30,000 crowd capacity festival centered on folk and independent music, with a specific aim of a return to "back to basics" organisation with a no sponsorship, no branding, no VIP attitude. Under 12's, since the festivals creation, have had free entry. In May 2013 it was announced the sixth festival had been cancelled. On 4–6 July 2014 the Hop Farm hosted an all-new Hop Farm Music Festival 2014 which featured headline artists including Brian Wilson, Ray Davies, James Blunt and Grace Jones. The 2015 Hop Farm Music Festival and future events run by The Hop Farm are no longer related to John Vincent Power. The 2015 line-up has been earmarked and the preparations are in place to build on the success of the 2014 festival.Anand Lodge Hotel is only about 12 minutes drive ( 5.7 miles ) from Hop farm via Maidstone Road and A228.Children's rides, a village full of animals and 4D cinema experience, plus cafe and shop.Address:Maidstone Rd, Paddock Wood TN12 6PYPhone:01622 872068
Once a private landscaped garden, Dunorlan Park is now a historically important and much-loved public park. A little way out of town, on the A264 (view on map), Dunorlan Park is spacious and elegant with wild grassy slopes and magnificent views across the lake to the Weald.Historic parks and gardens are an important part of our heritage. They represent where man has intervened in the natural environment, producing a designed landscape. Being within 'the Garden of England', this Borough has a particular wealth of these features as well as in the whole south-east region.Facilities at Dunorlan Park include:•Boating lake with boat hire•Dunorlan Cafe open 7 days a week between 9am and 5pm•Two car parks•Toilets•Natural play area•Victoria Cross Grove•Pond dipping•Royal Tunbridge Wells Model Boat ClubAnand Lodge Hotel is only about 6 minutes drives ( 2.2 miles ) from Dunorlan Park via Pembury Road / A264Pembury Rd, Tunbridge Wells TN2 3QN · 07886 320582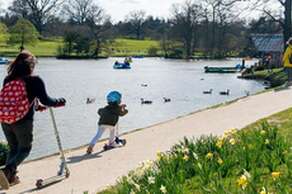 The Pantiles is a Georgian colonnade in the town of Royal Tunbridge Wells, Kent, England. Formerly known as The Walks and the Parade, it leads from the well that gave the town its name. The area was created following the discovery of a chalybeate spring in the early 17th century and is now a popular tourist attraction.The Pantiles is only about 12 minutes drives ( 3.6 miles ) from Anand Lodge Hotel, via Pembury road / A264.
Penshurst Place and Gardens
Penshurst Place is one of England's finest historic houses set in the Weald of Kent's peaceful rural landscape. Built of local sandstone, the mediaeval house with its magnificent Barons Hall dates from 1341 and is one of the finest examples of 14th century architecture. Later additions have seen Penshurst Place grow into an imposing defended manor house, containing state-rooms filled with a remarkable collection of tapestries, paintings, furniture, porcelain and armour. Penshurst has been the ancestral home of the Sidney family since 1552 and successive generations have shaped its development. Penshurst's most famous son, Sir Philip Sidney, the chivalrous soldier poet, was a symbol of loyalty and bravery in the Elizabethan era. The Toy Museum, which includes the Yootha Rose Collection, creates memories of nurseries in years gone by, with dolls houses and toy soldiers as well as toys from several generations of Sidney children.Penshurst Place & Gardens is only about 21 minutes drives via B2176 from Anand Lodge Hotel which is 9.6 miles away from the Hotel.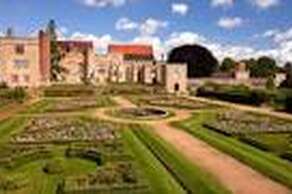 ATTRACTIONS AT HEVERHever Castle & Gardens is the perfect setting for a day out whether alone, with friends or family. For history lovers this castle in Kent is a great place to learn not just about the Tudors, but also about the Astor family, who were the owners of Hever Castle for 80 years from 1903 and were responsible for most of what you see today.Spend hours admiring not only the lovely interiors and historic elements but also the stunning grounds with statues and a variety of ornamental gardens, making it an ideal day out for horticultural lovers.Children can let off steam in the adventure playground, while squeals of delight can be heard as visitors of all ages enjoy the challenge of finding their way through the Water Maze and the 100 year old Yew Maze. There's a fascinating collection of miniature model houses and a beautiful lake that you can take boat rides on or a leisurely walk around. You can even try your hand at archery, paint a shield or watch a jousting event.The many attractions at Hever Castle open and close at different times and some have additional charges so please read the additional information available on Hever Castle website:www.hevercastle.co.ukHever Castle is located in the village of Hever, Kent, near Edenbridge, 18 miles (29 km)North-east of Anand Lodge Hotel, Tunbridge Wells, Kent, England. It began as a country house, built in the 13th century. From 1462 to 1539 it was the seat of the Boleyn, originally 'Bullen', family.[1]Anne Boleyn, the second queen consort of King Henry VIII of England, spent her early youth there, after her father, Thomas Boleyn had inherited it in 1505. He had been born there in 1477, and the castle passed to him upon the death of his father, Sir William Boleyn. It later came into the possession of King Henry's fourth wife, Anne of Cleves. In the 21st century the castle is a tourist attraction.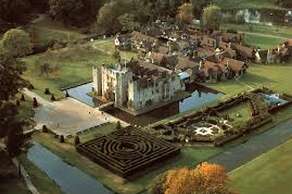 Extra Information
Pet Friendly
Disabled
Credit Card
Parking Facilities
Bar
Golf Course Nearby
Laundry
Family Rooms
Ironing Service
Wifi
Massage
Horse Riding
Gay Friendly
Vegetarian
City Breaks
Romantic Breaks
Walking Holidays
Country Retreat
General Policy & Car Park
Changes and cancellations to bookings made up to 2 day before the arrival date/time are without charge. Thereafter, the deposit may be charged. The total value of the booking may be charged if changes/cancellations are made with less than 12 hours notice.

Once a booking has been received, your card will be charged anytime before your arrival.

CAR PARK:Please reply to this email if you require car park @ £ 2per night. Parking on the road is free.
CONTACT
37 Hastings Road, Pembury, Tunbridge Wells, TN2 4PB

02086 833585